the Ste Martaen vegan food truck is coming to Milwaukee!
Big news, Milwaukee vegans!
The Ste Martaen vegan food truck is making a special trip from Chicago to Milwaukee just to feed us this Saturday, December 18! They will be here between 1 and 3 PM, and you can check Ste Martaen's Twitter or Facebook to find out exactly where they'll be.
Location updates!
1:00 PM – East Side, corner of Prospect Ave. & North Ave.
1:55 PM – East Side, Brady St. & Farwell Ave.
2:30 PM – Bay View, corner of Kinnickinnic Ave. & Potter Ave.
Today's menu!
Carolina BBQ
Vegan p*rk BBQ topped with Smoked Gouda and slaw; served on a whole wheat bun.
Olive Focaccia Sandwich
Marinated and baked tofu, sliced Ste Martaen cheese, grilled red peppers and onions; served on fresh baked Olive Focaccia bread.
Buffalo Chik'n Wings
Vegan chik'n on sugarcane "bone" smothered in fresh made buffalo sauce; served with celery, carrot and a cooling cucumber dill dressing.
Maple BBQ Chik'n Wings
Vegan chik'n on sugarcane "bone" covered with a maple BBQ glaze; served with Chicago's best Southern style biscuit.
The Bernstein Shebazzle (formerly the "Breakfast Burrito")
Scrambled tofu, veggie sausage, jalapeno cheese, and spinach wrapped in a grilled burrito.
Soul Vegetarian Mac & Cheese, Sweet Potato Pie, Apple Pie, and Chocolate Mousse Pie
No Ste Martaen vegan cheeses will be available from the truck today. Sad face!

Ste Martaen (pronounced sahn mar-tahn) started out as a small business venture by a vegan family. First up, they created an assortment of gourmet vegan cheese alternatives — all of which are gluten- and soy-free — carefully crafted from a blend of organic cashews, nooch, lemon juice, tahini, and other goodies. These aren't your standard melty Daiya/Teese/FYH pizza or macaroni toppers, but rather solid artisan cheeses meant to be enjoyed with crackers or wine.
They offer five vegan cheese flavors, available to order online or at various brick and mortar stores in Chicago, including two branches of Whole Foods: Colby, Smoked Gouda, Pepper Jack, Muenster, and Olive! Each cheese is $5.95 per half-pound.
Here's a photo of the goods, from the Ste Martaen website: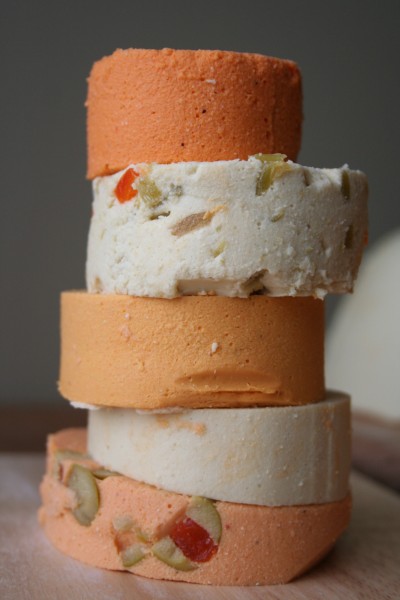 Next, Ste Martaen started their vegan food truck, and Monday through Saturday, the truck delivers a revolving variety of 100% vegan goodies like breakfast burritos, BBQ sliders, tacos, chik'n wings, sandwiches, and more to Chicago and its suburbs. They've also formed a partnership with Soul Vegetarian East, so a selection of SV dishes is usually available in addition to the standard menu. Ste Martaen's menu changes daily, but it's always up-to-date on their website. You can also purchase Ste Martaen's vegan cheese right at the truck.
Payment can only be made with cash, so make sure you hit up an ATM!
The truck will be rolling into Milwaukee around 1 PM and staying until 3 PM, but specific locations have yet to be announced. Visit the Ste Martaen food truck website for more details on how to request a stop (via phone, Google Talk, Twitter, or Facebook).
For the latest vegan food truck details, including locations and times, check out these links!
» @veganmilwaukee [Twitter]
» @stemartaen [Twitter]
» Vegan Milwaukee [Facebook]
» Ste Martaen [Facebook]
If all that wasn't enough to motivate you, check out these delicious dishes, all from Ste Martaen's Flickr:

In other local vegan news, Chicago Soydairy's brand-new frozen breaded Teese mozzerella sticks are now available through Wisconsin's own Vegan Essentials! You can get 15% off of your order today by using the coupon code savebig when you check out. Click here to buy some, and I'll see you at the food truck on Saturday! I'm looking forward to ordering one of everything.